Sustainably Sourced, 100% Natural
At Cacao King we believe in the health of our bodies and the health of our communities. All of our products are made with the highest quality, natural cacao purchased directly from small farms in Central and South America. Our cacao is vegan, sugar free, gluten free, GMO free, and uses no chemicals or preservatives.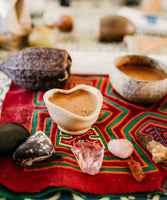 Ancient Healing Cacao Ceremony
In the Ngabe indigenous culture, the "Cacao King" (or Cacao Shaman) would use cacao ceremonies to help heal the sick and get rid of 'evil spirits' within the community. The Cacao King would prepare a sacred space and the people would consume cacao for 3-4 days, without food or water. 
Cacao is known to open the heart and mind. When consuming ceremonial cacao, there is a sense of universal acceptance, love and communion with The Sacred. 
To learn more about how you can commune with this delicious medicine in your daily lifestyle, we offer you this free downloadable informational packet, featuring recipes, histories, and common uses.
Enjoy and Ciao Cacao!
Download Your Free Cacao Info Packet